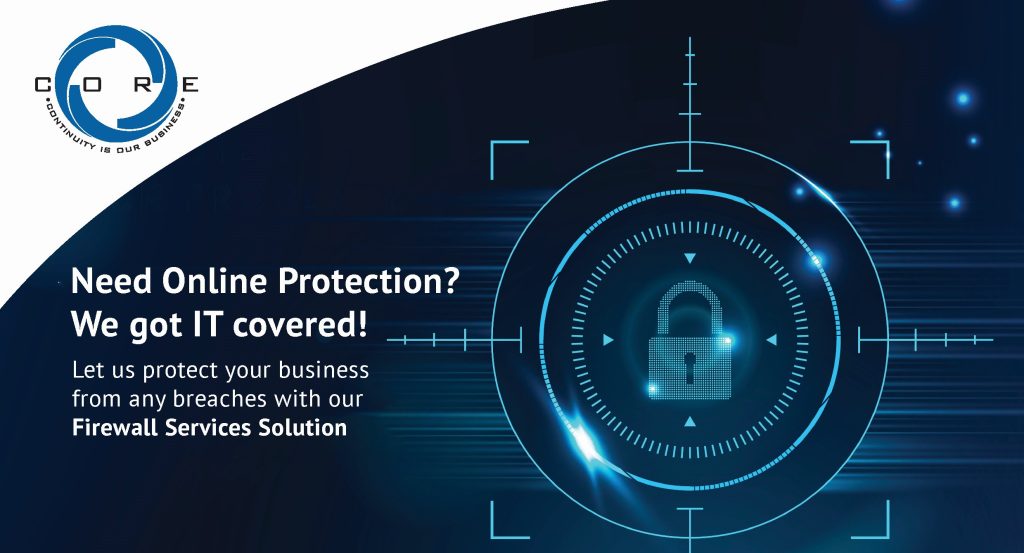 As cybercrime continues to increase and threatens businesses across the world, you know that your organization needs protection against malicious threats, hackers, and malware. The size of the company does not matter, our Firewall Services are the key component in safeguarding your business against any breaches. We provide and maintain your firewall through our certified Tier 3 Datacenter, where external security, secure remote access through VPN, and applying web filtering restrictions, are part of all the services.
With our Firewall Services you can:
Monitor your incoming and outgoing network traffic.
Any business that has access to the internet should protect its Network from malicious attacks and viruses. With our Firewall Services, you can ensure that attacks don't get through, by proactively monitoring all incoming and outgoing traffic, reporting regularly, and deciding whether to allow or deny traffic flows based on a defined set of security rules.
Ensure better privacy and security of your data.
Our Firewall Services allow your business to be safe from hackers who can exploit the vulnerabilities in your network. They do this by stealing data and bringing down your internal infrastructure, which can lead to losing your business. When you choose our Firewall Services, you ensure that your firewall devices are configured, maintained, and monitored regularly.
Securely log on to your office network from anywhere.
We install, configure, and manage all your desired VPN tunnels through our Firewall Services. Connecting to your office network remotely allows you to log in from any location whether you are working at home, in a coffee shop, or traveling. With a secured VPN connection, protected by two-factor authentication, you ensure that everyone within your organization works via an encrypted connection. The extra layer of authentication guarantees that the network cannot be breached by outside players, even if they possess the stolen credentials. VPN two-factor authentication verifies the identity of the user not only by a single password but by a time-based one-time password. It is much harder to steal and use such a one-time-password as it's valid only for 30 seconds, thus guarding against phishing and other security threat.
Increase productivity by minimizing downtimes and unexpected security breaches.
Time is money. Downtime can cause a reaction to a bad event, for example, loss of sales and customers, decreased productivity, and data loss. The key to providing the most comprehensive defense against a variety of cyber threats is to layer multiple types of security measures. Let us assist you with the best security configurations to mitigate any security risk.
Web filtering
With web filtering, you can decide what sites or categories of sites your users can access. For example, block pornography and gambling, and other undesired content from your users. Another option is to limit certain activities through a combination of web filtering and scheduling, for example, making sites like Facebook and Instagram only available during lunch break.
Intrusion Protection
An intrusion Protection System's (IPS) main function is to identify any suspicious activity and prevent any attacks based on predefined signatures. These attempts are logged and reported directly to our experts. Apart from monitoring networks and preventing threats, Intrusion Protection is also an excellent method of preventing employees and network guests from violating your corporate security policies.
So, if you're looking to take proactive cybersecurity measures and greatly mitigate the chances of a security breach, we got IT covered! Connect with our experts today for a free quote!
CORE. Empowering Tomorrow.